The longer that you own or manage rental properties, the more you'll understand why it's so important to screen tenants.
Low-quality tenants don't just make your business difficult to manage — with late payments and loud parties — but they can also do damage to your assets. They can break windows, destroy carpet, ruin paint, and so on.
Just check out the video below where Ryan Dossey, the founder of Call Porter, talks about a tenant who destroyed a landlord's driveway…
By the way, that is only one of many incidents that Ryan has learned from — now, of course, he screens every single tenant.
You're probably here because you've had some bad experiences of your own — or maybe you just want to avoid these bad experiences altogether.
Either way, you're in good hands.
We're going to walk you through 7 steps to screening potential tenants so that you can build a more stable real estate empire. Here they are!
1. Outline Requirements
The first step is to outline your requirements for tenants that you'll accept.
There will be exceptions, of course, but for the most part, you'll want to stick to the rules you create at the outset — or at least, as close to them as possible.
Here are some considerations and recommendations…
Income
Getting tenants to pay their rent is one of the most common challenges for landlords.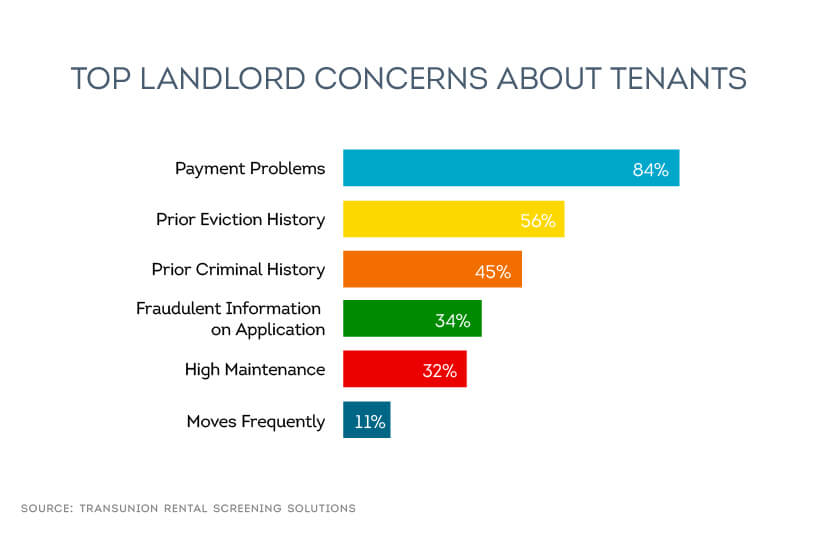 It's in both your interest and your tenant's interest for you to make sure that their income can support the cost of rent and utilities — they don't want to fall behind on rent payments and you don't want to hassle them every month.
A good rule of thumb is that 30% of the tenant's income should be available for paying rent. So if your property costs $1,500 per month, the tenant should make at least  $5,000 per month. And if the property costs $1,000 per month, the tenant should make around $3,300 per month.
You can ask to see pay stubs or a W2 in order to verify income.
References
Always ask the tenant for references.
Start by asking for references from work bosses or past landlords, and if the tenant can't provide those, then allow them to provide references from elsewhere.
Here are some questions we pulled from Pendo for screening references…
Screening Questions for Current/Past Landlords
What is the address of their property?
Who were the occupants listed on the lease?
How long was the tenancy?
What was the tenant's monthly rental amount?
Did the tenant consistently pay rent on time?
Did the tenant maintain the rental property well? Were there any major damages or maintenance issues?
Did the tenant have any pets?
Were there any complaints from neighbors or other tenants?
Why did the tenant leave?
Would you rent to this tenant again? Why/why not?
Screening Questions for Employers
Can you confirm that the tenant was/is employed at this company?
What is the tenant's monthly salary?
What was the date of hire?
What is the tenant's position in the company?
What are the terms of employment? Is there a trial or contract period?
What are the average hours worked?
Does the tenant come to work on time?
What are the tenant's long-term job prospects?
How do you like working with the tenant?
Has the tenant ever been reprimanded at work?
Screening Questions for Friends/Family
How do you know the tenant?
How long have you known the tenant?
How does the tenant spend their spare time?
Have you spent any time in the tenant's current or previous home? How would you describe it?
Does the tenant smoke?
Does the tenant have pets?
Describe their overall character.
Credit Score
The tenant's credit score isn't a perfect measurement of their reliability, but it's certainly an indicator.
In a perfect world, you're looking for a score of around 620 or higher — if it's lower than that, consider the other factors to determine if the person will still make for a good tenant or not.
You can use Experian to check tenants' credit scores.
Past Evictions
Unsurprisingly, if someone has been evicted before, then they're extremely likely to be evicted again.
The first step is to ask the tenant if they've been evicted before. If they say they haven't and everything else checks out, then you're probably good to go.
But if they say they haven't and there are other red flags, then it's worth double-checking in your county's records.
If they have been evicted before — and assuming they don't have a more recent and optimistic track record — then it's probably best to keep looking.
Criminal History
You can use RentSpree to run background checks on tenants.
And we highly recommend doing so — if the person has a recent criminal record (beyond just speeding tickets), then you're taking a pretty big risk by renting to them.
It's very likely that they'll continue their crimes inside of your property and potentially do damage to your house.
Work History
A person's work history will give you an idea of how long they typically hold on to a job.
Their income might support the rent price right now, but do they have a history of sticking with employers for a reasonable amount of time — say, at least a couple of years?
Ask about their work history and don't forget to call their references!
2. Run Honest Ads
To some degree, the screening process starts before anyone even submits their application — and it starts with the type of advertisements you run.
Ask yourself this question: who are your ads attracting?
You don't want to attract everyone — you only want to attract high-quality tenants. So in your advertisements, be honest about the condition of the property, the location, the upfront deposit, your rules about pets, and the rent.
That will ensure that you attract more high-quality tenants.
3. Create The Application
Next, you need to create the application.
This form should be the same for every applicant so that it's easy to look through them and determine which tenants you want to consider first.
Here's a decent template from TemplateLAB that requires most of the information you'll want and need.
4. Screen The Potential Tenant
Once you're running ads, you'll start to get some applications — we recommend making this process as easy as possible (ideally, use an online portal).
You'll be able to review these applicants quite quickly since each application asks the same questions. Scan for the most important information — do they have a criminal history? What's their income? Do they have pets? What's their renting and work history like? — and make a list of the applicants that sound the most promising.
Then reach out and get permission to screen those clients. Tell them that you intend to run a background check as well as call their references — ask for their permission to do so.
Once you have it, run the background checks and call their references.
5. Ask Additional Questions
If the background check and references for an applicant are good to go, then we recommend doing a short, even just a 15 minute, interview with the potential tenant.
Schedule this with them and then get to know them a little bit.
Here are some additional questions you might consider asking (pulled from RentPrep)…
Do you currently rent, and if so, where?
How long have you lived in your current home?
Why are you looking for a new place to live?
What date would you want to move in?
What kind of work do you do?
What is a rough estimate of your income?
How many people would be living with you?
How many people living with you smoke?
How many parking spaces would you require if you rent here?
How many pets do you have?
Do you think your current landlord will give you a favorable reference?
Does your current landlord know you are thinking of moving?
Have you ever had an eviction?
Are you familiar with our rental application process?
Are there any issues I should know about before I run a background screening for all the adults in the household?
Have you filed for bankruptcy recently?
Will you be fine to pay our lease application fee of ($ amount) if you fill out the application?
Would you be able to pay the security deposit of ($ amount) at the lease signing?
Are you willing to sign a 1-year lease agreement?
Do you have any questions for me about the process?
6. Comply with Fair Housing Laws
This should be obvious, but it's important to keep in mind that you, as a landlord, don't have the right to discriminate against tenants or applicants based on…
Race
Color
National Origin
Religion
Sex
Familial Status
Disability
And you're definitely not allowed to ask those questions on the application, during the interview, or at any point in the future.
7. Add These Clauses To Your Lease
We've covered just about everything you need to know to screen tenants.
But we want to finish with one final bit of advice — specifically, five clauses that you should add to your lease to make sure you, as the landlord, are protected.
Check out the video to find out what they are!
Final Thoughts
There you have it! Those are the 7 steps you can use to screen your next tenant.
They include outlining your requirements, running honest ads, doing background checks, calling references, and protecting yourself with a well-put-together lease.
We hope this helps you find and secure better tenants for your properties!
But enough from us… how do YOU screen potential tenants?
Let us know in the comments!